Publication & Open Access
Definition and advantages to Open Access Scientific Publication and Research Data
Open Access (OA) means unrestricted and free of charge online access and reuse of scientific information. In the context of research, scientific information can refer to (i) peer-reviewed publications (published in scholarly journals) or (ii) research data (data underlying publications, curated data and/or raw data). Authors can apply open licenses that stipulate that their work can be freely re-used or re-distributed as long as their original contribution is appropriately credited.
Open Access Explained
Advantages

What are the advantages for researchers and the scientific community to make published works and accompanying datasets freely accessible and reusable through Open Access (OA)?

OA offers a full and broad access to research publications and data sets that helps (see table "Benefits to OA & Open Data).

The authors:

higher diffusion and visibility of their research results
higher citation rate of their publications

The scientific community:

build on previous research results (improvement of results quality and reproducibility)
foster collaboration and reduce duplications of research studies (higher efficiency)
accelerate innovation (scientific, technical et medical progress made faster)
involve citizens and society (improved transparency of the scientific process)

While the citation advantage of OA published articles remains a subject of debate, the review made by SPARC on a large number of studies confirms the added value of OA (see several sources of information bellow). On average, the citation advantage of OA papers is 40.3% more citations while the citation disadvantage is 27% less citations for non-OA papers (based on a total sample size of 209,000 papers) (Archambault E. et al., 2014).

Sources of information

Gold and Green roads

There are three main and non-mutually exclusive roads for the Open Access of scientific publications that are supported at UNIL/CHUV: Gold Road, Green road and Read & Publish model

The Gold Road: the article is published in an Pur Gold Open Access journal with an open licence such as Creative Common licence.
The Green road or self -archiving: the accepted author manuscript is archived on the university repository (Serval at UNIL) by the researcher – or a representative – in addition to the commercial publication.
The hybrid model: In addition to the Green Road and the Gold Road, a hybrid business model is proposed by the majority of publishers. In this case, journals that sell subscriptions also offer authors the possibility of making their publications OA after the payment of Article Processing Charges (APCs). Due to the double dipping resulting from this situation (payment of journal subscriptions and additional APC publication fees), UNIL and funding agencies (eg. SNSF) do not support open-access publications in hybrid journals.
The read and publish model: a new path is currently possible with the National Read&Publish Switzerland licenses when agreements are made with publishers that cover not only newspaper subscriptions but also part of the APC fees of authors from Swiss institutions for the Open Access release of their articles.
Gold Open Access Financial Support at UNIL/CHUV
UNIL/CHUV researchers can benefit from numerous resources to finance the Author Processing Charges (APCs) necessary to provide Open Access their scientific publications following the gold path.
In the case of publications funded by a SNSF subside, the SNSF provides grants to finance scientific publications that are made available immediately in pur gold open access journals, without restriction and free of charge. Payment of processing charges can be requested directly via the OA platform of the SNSF (mySNF). For more information
Within the framework of negotiations conducted by swissuniversites at the national level with publishing houses such as Elsevier, Springer Nature and Wiley, UNIL/CHUV researchers can benefit from a new "Read & Publish" licence model which covers both access to the journals (Read) and their Open Access publication costs in the same journals (Publish).
detailed information on all agreements made :
FBM/CHUV researchers who would like to have more information about the journals for which they benefit from partial or total coverage of their APC costs can contact  us.
Green Open Access Support at UNIL/CHUV
UNIL/CHUV institutional repository (Serval)
Why archive your publications in UNIL repository ?
Where should researchers working at UNIL or CHUV self-archive their documents?
Which kind of documents and which version of the document can be self-archived?
What are the copyright and licences legal aspects that the authors need to respect?
When can Open Access to a peer-reviewed article or book be provided?
Open access agency (FNS and H2020) policies
What are the Open Access (OA) policies of the various worldwide funding agencies?
Do researchers working in Swiss laboratories need to comply with funding agencies' OA policies?
Do OA policies apply only to articles or also to data underpinning the publication?
Securing Author rights
How to preserve the copyright of your published work?
How to make your publication freely available through Open Access?
How to allow sharing and reuse of material?
Services
BiUM librarians are well aware of copyright and licenses legal issues and will help FBM/CHUV researchers in addressing these legal issues.
Tools
Ask us about the use of Creative Commons licences tool in order to make your document freely accessible while protecting your copyright.
Copyright
When an article is accepted for publication in a journal, the publisher asks the authors for the permission to publish it. At that step, publishing contracts often force authors to sign over their copyright and to provide a copyright transfer agreement that gives publishers the full rights and control to exploit the research article. As a consequence, authors may not longer be able anymore to reuse later on some parts of the article content or to make the publication available in OA after self-archiving without asking the publishers permission.
Authors need to make sure that they can still fulfill the OA and self-archiving requirements of their funding agencies and institutions after signing this copyright. Publishing contracts should therefore be checked carefully before signing them, to make sure that self-archiving and OA in a repository are permitted.
If you wish to learn more about Opinion on OA in Swiss law, please consult the ETH Bibliothek website
In the worst case, if authors cannot reach an arrangement with the publisher for making their work openly accessible, they should inform the funding agency office and may have to consider submitting their article to another journal.
Creative Commons licenses
Wanna Work Together? from Creative Commons
Creative Commons (CC) offers six different copyright licenses that condition the legal copyright terms and allow the sharing and reuse of material. CC licenses incorporate a unique and innovative "three-layer" design (Legal Code layer, Human Readable layer and Machine readable layer). Authors can easily select and use CC licenses to mark their work as freely available. The most common licence among OA publishers is CC-BY.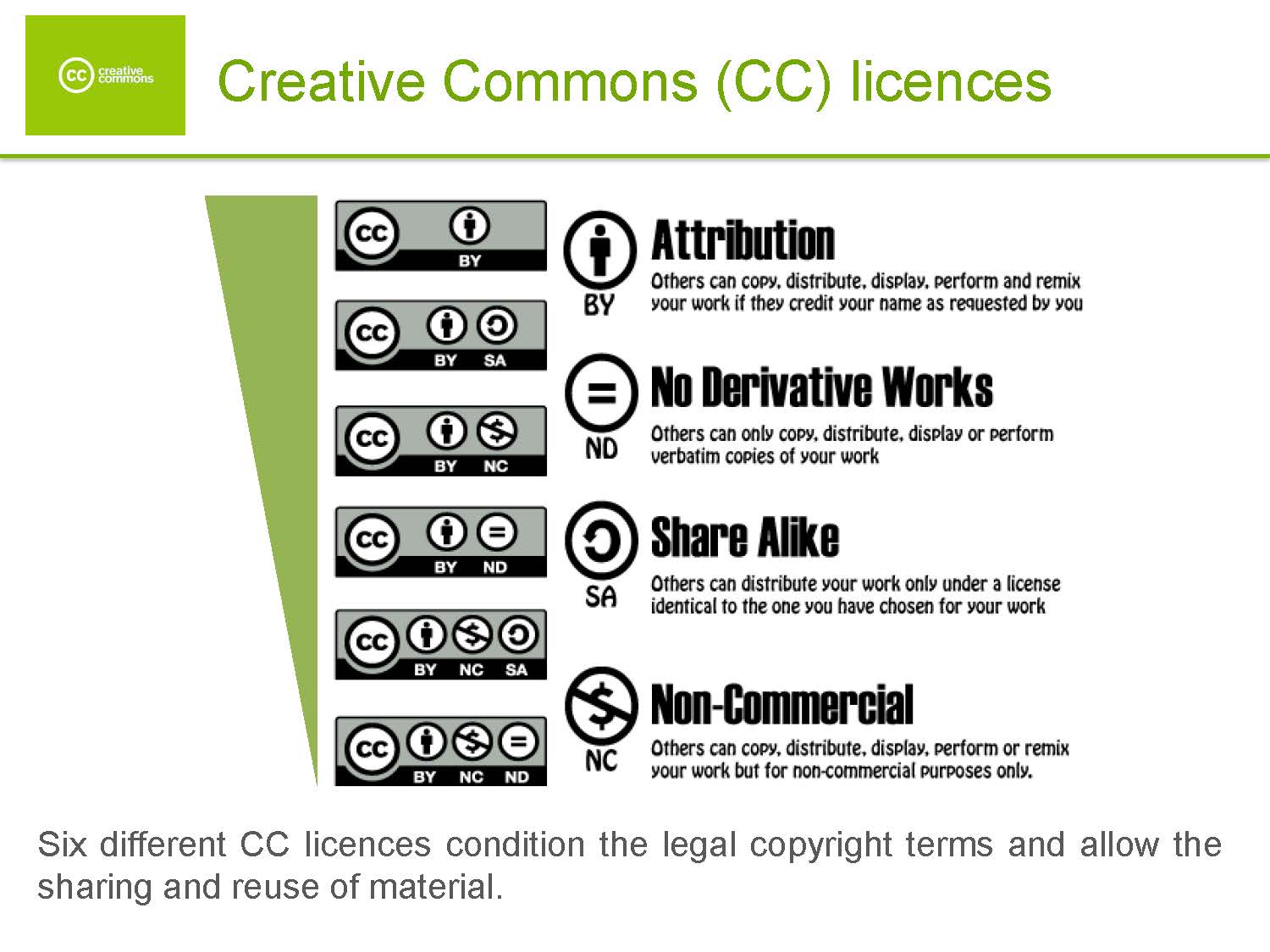 All CC licenses require that users provide attribution to the creator when the material is used and shared. The CC BY license lets others distribute, remix, tweak, and build upon a work, even commercially, as long as they credit the author for the original creation. This is the most accommodating type of licenses offered. This license is recommended for OA and an optimal dissemination and use of licensed materials. The other five licenses combine BY with one or more of three additional license elements: NonCommercial (NC), which prohibits commercial use of the material; NoDerivatives (ND), which prohibits the sharing of adaptations of the material; and ShareAlike (SA), which requires adaptations of the material to be released under the same license.
Develop a publication strategy
Which content, where and how to publish your results?
Which audience do you wish to target?
How to select an high quality journal?
Find OA journals and articles
How to find a Open Access journal?
How to find a Open Access published article?
Author's responsibilities and guidelines
« Plagiarism, counterfeiting and faking documents or results are actions which are unanimously considered a serious misconduct, punishable by the UNIL, which can even lead to penal proceedings. Compliance with the following guidelines are requested for UNIL and CHUV researchers ».
Plagiarism

Plagiarism at the University of Lausanne and CHUV

Guideline includes advice on i) ethics and intellectual property and ii) sources citation and the use of appropriate bibliography.

Research integrity

Research integrity at the University of Lausanne and CHUV

Section 2 of the guideline includes advice on research results interpretation (2.8), results quality versus quantity (2.9), scientific publication, authorship (2.10) and scientific integrity (3.2.3).

Researchers affiliation

Researchers affiliation at the University of Lausanne and CHUV

The guideline specifies the way researchers from UNIL and CHUV should declare their institutional affiliation within publications and scientific communications.
Unless otherwise stated, all materials created by the BiUM are licensed under a Creative Commons License (CC BY NC ND  Lebrand C.- BiUM library-2016) unless otherwise noted.
Updated: 19.09.2023