Use of the FBM UNIL or CHUV specific DMP templates for SNF fund applications
Create an account
Please go to the DMPonline UNIL platform by clicking on the attached link.
To benefit from our two DMPs models specific to the FBM UNIL or CHUV for SNF fund applications, when creating your account
1-Indicate "université de lausanne" in the organization box whether you are at UNIL or CHUV.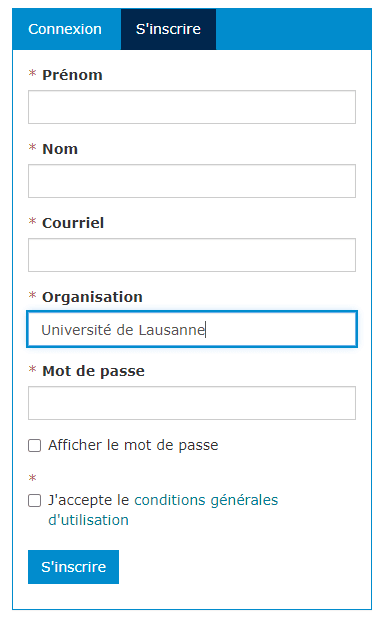 2-When reconnecting, log in specifying "université de Lausanne".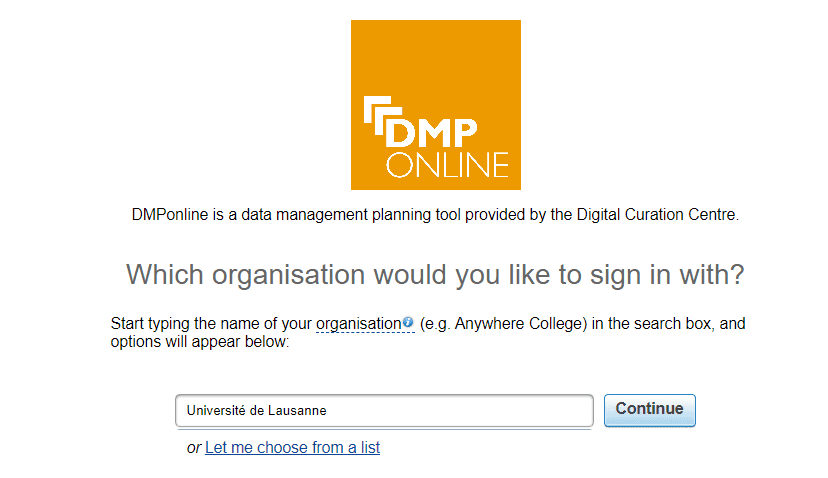 When you log in to DMPonline, you are directed to the "My Dashboard" page.  From here you can edit, share, download, copy or delete any of your DMPs. You will also have access to DMPs that have been shared with you.
Creating a DMP
To obtain one of the two FBM specific DMP templates for FNS fund applications click directly on the link below for the desired template UNIL or CHUV:
Finally, please confirm your choice by clicking on the "Create plan" button.
Features related to your DMP
The tabs in the interface allow you to navigate through the different functions when editing your DMP:
The "Project Details" tab includes basic administrative details to fill in and allows you to select the help you want for your plan.
The "Plan Overview" tab shows what model your plan is based on, what assistance is offered, and gives you an overview of the questions that are asked.
The "Write plan" tab contains the questions you need to answer, organized by section. When you click on a tab, different banners with titles appear. These represent the sections of the SNF-requested DMP and the number of questions they contain is indicated. Click on the sections in turn to answer the questions. If you are happy with the examples provided by our service, copy them and complete them in the box corresponding to your DMP.  Do not forget to save your answers before continuing. In order to create your final DMP for the FNS, you will then unfortunately have to copy and paste each of your individual answers in MySNF into the corresponding fields of the FNS DMP since the FNS does not allow any uploading of DMPs via an external source.
The "Share" tab allows you to invite others to read or contribute to your plan, request feedback, and set the visibility of your plan.
The "Download" tab allows you to download your DMP in multiple formats. This can be useful if you need to attach your plan to a funding application for example.
Our additional FBM help available for questions is presented in the box to the right of the questions.
Share a DMP
Insert the email addresses of the members of your research team you wish to invite to read or edit your plan. Select the level of permission you want them to have (co-owner, editor, read-only) using the radio buttons and then click the "Submit" button. You can adjust these permissions at any time from the drop-down list.
Define the visibility of a plan
The "Share" tab is also where you can set the visibility of your DMP:
Private: visible to you, and your research team (researchers and administration at your institution)
Organizational: anyone in your organization can view your plan
Public: visible to everyone in the list of public DMPs.
By default, all new plans and test plans are private. The "public" and "organization" visibilities are reserved for completed DMPs. You must answer at least 50% of the questions to have access to these options.
Request for consulting assistance
To request feedback from our FBM service on your plan, click on "Request feedback". Our team UNIRIS at researchdata@unil.ch will be notified of your request and will respond. Our comments will be visible in the "Comments" field adjacent to each question. You will be notified by email when a review of your plan has been completed.
Download a DMP
From this tab you can download your plan in different formats. Choose the format in which you would like to view or download your plan and click "Download".