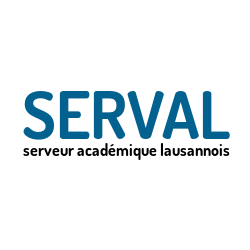 Serval 2 – Ordonner, gérer et valoriser son portefeuille de publications
Thursday 24 January 2019
From 1:00 pm to
2:30 pm
Salle de formation de la Bibliothèque
Bâtiment hospitalier BH 08 – CHUV
Contenu
: destiné aux chercheurs (et assistants administratifs responsables du suivi des publications des chercheurs) de la FBM, dans le but de mieux ordonner, gérer et valoriser le portefeuille de leurs publications via Serval2 (la nouvelle version de Serval).
Initiation à la saisie des métadonnés décrivant l'article dans Serval2, dépôt d'une publication, production des rapports d'activité pour l'unité d'évaluation de la FBM. L'objectif est également de réaliser du green Open Access en déposant les publications sur Serval, et ainsi de répondre aux directives Open Access du FNS et de H2020.
Pré-requis : Avoir accès à un dossier individuel de chercheur ou d'une unité de chercheurs créé dans Serval.
Durée : 1h30
Informations détaillées, calendrier et inscription
This training is given in French, but participants can use English to interact with the instructors.