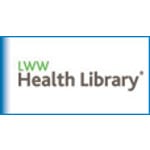 LWW Health Library e-books on trial until 29 May 2021
LWW Health Library (OVID) offers access to textbooks, e-books, videos and self-study modules (quizzes, self assessment).
Access to the full text of essential titles such as Grant's Atlas of Anatomy; Rubin's Pathology; Langman's Medical Embryology; West's Respiratory Physiology.
Resource accessible while connected to the UNIL-CHUV network. If you are not on campus, use your UNIL or CHUV VPN "Pulse Secure" to connect to it.
Please feel free to give us feedback on this trial by using our contact form.
Published: 31.03.2021