UNIL/CHUV Researchers can access 16 million publications from over 2,500 journals published by Elsevier and its society partners via ScienceDirect. Furthermore, researchers will be able to publish Open Access across the majority of Elsevier's Gold and Hybrid journals, scaling up to 100% by 2023.
UNIL/CHUV corresponding authors can publish free of charge in Gold and Hybrid Elsevier journals . Cell Press journals, «The Lancet» and selected society journals are not included in the agreement. Therefore, please consult the Excel list before choosing a journal to publish in Open Access (Elsevier_titlelist_publication2021_DEFINITIVE). This deal is valid for articles submitted after January 1, 2020.
During the first three years (2020, 2021 and 2022), the number of items supported is subject to a national quota (2850, 3000 and 3150 respectively). If the number of articles exceeds these quotas in any of these years, the publication invoice will be sent directly to the author.
Here are the article types cover by Elsevier's OA agreement:
CRP — Case Report
DAT — Data
FLA — Full-length article
MIC — Microarticle
OSP — Original software publication
PGL — Practice Guidelines
PRO — Protocol
REV (journals) — Review article
RPL — Replication Studies
SCO — Short communication
SSU — Short survey
VID — Video Article
After your article is accepted, corresponding authors will receive an e-mail with a link to the Elsevier Rights and Access Portal. Follow the UNIL guideline 4.3 that specify the way researchers from UNIL and CHUV should declare their institutional affiliation within publications and scientific communications. Enter University of Lausanne as the "Corresponding Author's Organization"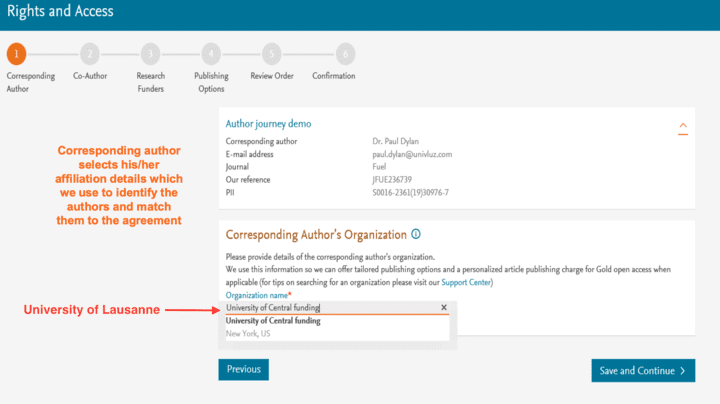 then select the "Gold Open Access" option. It is not the default option, so make sure you choose Open Access. Be sure to select the CC BY license and not CC BC NC ND in order to have maximum rights to use your article.